In March 2014, Community Ventures reached out to Wiser Strategies to help update their brand. They had previously worked with other firms but felt they were not adequately capturing the company's essence. Nancy Wiser, our president has always said, "we may not immediately give the answers a client wants to hear, but we will pose the questions they need to consider." We arrived at Community Ventures, rolled up our sleeves, and were ready to get down to business.
We took them through rediscovery discussions that enabled new ways of talking about and representing their brand to emerge. That was just the beginning. We have since provided content and design direction for their materials and multiple new programs and products.
So they were thrilled to say, "Out with the old and in with the NEW!"
Current Logo: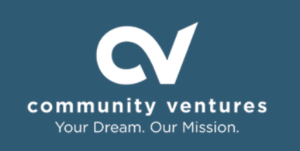 The new brand is more approachable, but still strong, and implies a positive path. The slogan on the new logo, which they didn't have before, summarizes their mission and invites people to find out more. Employees are more confident in talking about what they do and how they serve the public. The new brand's color palette and design logic unify a wide spectrum of programs and services in a way that was not possible previously.
We especially enjoy working with Community Ventures because of their focus on service and their entrepreneurial approach to uncovering and meeting community needs. Their mission of providing the guidance and resources for people and communities to gain greater financial independence is making a difference all over our state and nationally. We are honored to have a role in this success.
Thanks, Community Ventures for bringing us on board.