Welcome to Wiser Strategies where we empower companies and the people who run them to achieve greater success through more effective communication.
Located in downtown Lexington within the heart of the Bluegrass Region (yes, Horse and Bourbon Country!), we craft and execute custom communication strategies that inform, engage and motivate clients' most important audiences.
With decades of experience, we have gained deep expertise across many industries, which we've grouped into four sectors:
1. Energy, Environmental & Infrastructure,
2. Associations, Government and Non-profits,
3. Business to Business and Professional Services, and
4. Healthcare.
You might ask what sets our team of strategists, writers, graphic designers, videographers, photographers and media buyers apart from other marketing and public relations firms.
We believe it's our values:
• Think deeply and creatively
• Respect each other
• Create change
• Dream large and
• Communicate clearly
These values inform every step our professionals take as we advise clients and execute strategic communications:
• Engagement
• Branding
• Creative
• Media
• Plans
And a constant focus on safety and security underpins everything we do.
I'd like to share a few examples of our work to illustrate: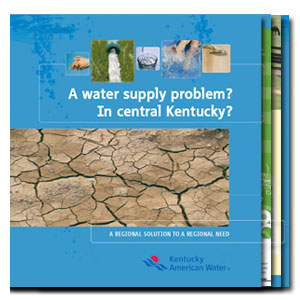 When Kentucky American Water Company was required to increase its capacity to serve businesses and homes in Central Kentucky, the nation's largest water utility knew it could be a challenge to gain Public Service Commission (PSC) approval. A previous attempt had been stopped short by a vocal and well-connected group of property owners. Also, the planned 20 MGD (Million Gallons per Day) water treatment facility on the Kentucky River would require a more than 30-mile long pipeline, which would not serve those whose property it would cross.
Kentucky American Water brought us onto their project team to manage the communication process for a new 20 MGD (Million Gallons per Day) water treatment facility. We conducted research, developed messaging and communication materials, contacted stakeholders, facilitated public outreach and meetings, and prepared and placed media buys.
The result: The PSC approved the project, so droughts are no longer a concern for those who depend on Kentucky American Water.
We've also consulted with multiple electric utilities –Touchstone Energy focus groups in multiple states, Media spokesperson training for East Kentucky Power Cooperative, customer research analysis and employee training for Blue Grass Energy, and public relations, video production and customer relations for Nicholasville Utilities.
One of our strong suits is creativity. We love nothing more than to dig deep into a subject and then develop engaging ways to inform, educate and engage the public.
Like taking middle and high school students through the water treatment process with a fun and quirky guide.
And, by using a popular animation style to help youngsters understand why water conservation is important and how they can help.
And then there's trash … how do you remind residents that Storm Drains are Just for Rain on a small town budget? You invite locals to chant the message and pups to fetch trash and put it in its right place.
Oh, don't forget about sewers! We were glad to assist Lexington in getting the message out to area drivers and pedestrians about the Sewer Replacement Project on Euclid Avenue.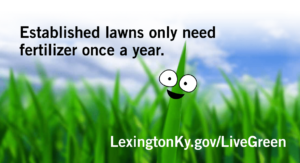 And, when your client has a vision of building communication collateral that incorporates opinion research, you let nature do the talking. Our "Blade the Spokesgrass" series talks directly to homeowners and adds new characters to keep the messages fresh.
The better we get to know our clients, the more effective we can be. That is especially true when there are challenging issues that must be addressed, such as those our nation, our businesses and families are confronting today. We advise on communication strategies when there are opportunities, such as new infrastructure projects, expansions, innovations, or mergers; for changes, such as new regulations; and in crisis situations, such as injuries, mismanagement, or a public threat.
We would welcome the opportunity to help you succeed, as we have other clients.