A news release – with timely information, all the names of those mentioned in it spelled correctly and a contact phone number or email address for any questions a reporter may have – is just part of what's helpful to a journalist these days.
What else could a good reporter possibly need or want? No, not lunch (although that's a lovely idea) or free tickets to an event you're sponsoring (although again, how nice).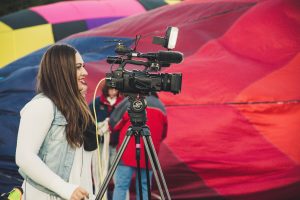 I'm talking about photos and video.
As the size of many media staffs shrink, two of the most helpful items a PR or marketing firm can offer their media friends are photos and video.
Sure, anyone – including a cub journalist – can take a picture or video with their cellphone or tablet. But, for most journalists who are covering multiple beats and scrambling to get their news up on Twitter before anyone else, having readily available photos and video is a godsend.
Why? Because it's one less thing they have to do.
Plus, chances are your companies already hire a photographer and videographer to do that for you. So, why not put a smile on a journalist's face – and improve your media relations by leaps and bounds – by sharing photos and video with them.
There are some important things to know before you just snap a mugshot of your spokesperson and attach it to a press release. (Although if that's what you're doing you're already several steps ahead of many PR/marketing companies.)
When it comes to photos, this is good to know:
High res jpeg images are preferred by most media outlets. By high res, I mean 300 dpi or bigger. A bigger image can be made smaller, but a small image cannot be made larger unless you want it to look really grainy and pixelated.
And although this isn't a course in photography that works for the media, know that a single photo of a large group of people isn't really going to wow your journalist friends. In addition:

Keep your images simple and clear.
New mug shots – as opposed to those taken five years ago – are always good.
So are photographs of products shot against a plain background.
Candid pictures are often preferred over those that are staged.

And be sure to always provide cutline information by identifying the people in the image (preferably left to right) and give the name of the photographer for a proper photo credit. If you'd rather just give the agency credit and not an individual, that's OK. Just let your media friends know where the photo came from.
Sharing video? Good for you! But keep this in mind:
Mp4 or mov files are preferred by most media, says Caitlyn Stroh, who runs the visuals department at The Herald-Leader/Kentucky.com in Lexington, Ky. At least 720p resolution or 1080p is best. Anything higher def isn't really necessary and often takes forever to download.
Also, either use DropBox or WeTransfer or Google Drive when sharing a video. Sharing a YouTube link is the least preferable, but it can work.
Be sure to check the audio on your video, reminds Stroh. Make sure the audio levels between tracks are balanced and nothing sounds distorted. If the video contains a lot of talking and relies on what's being said, captions or caption files (.srt files) are really helpful.
And, if you want to be one of those companies that is doing what the cool kids are doing, Stroh mentioned that square video is becoming increasing popular for social media. Perhaps you've noticed. You may want to test it when sharing video with some of your more social media savvy audiences. Square video plays really nicely on Instagram, Twitter and increasingly on Facebook, Stroh said.
And, of course, be sure to identify who's in the video and give the proper video credit before you share it with your media friends.
Sally Scherer worked in journalism for 20+ years, as a reporter and editor. Most recently she was the lifestyles, business and education editor at the Lexington Herald-Leader/Kentucky.com. She is currently a freelance writer/editor and Wiser Strategies collaborator.