Web design in 2019 is amazing. Admittedly, I'm known to geek out about this more than most. But, with something as important to our current society as the Internet, I think most people would agree it is truly

amazing how far web design has come.
Look at the first Amazon website in 1996 compared to the site and online business it is today: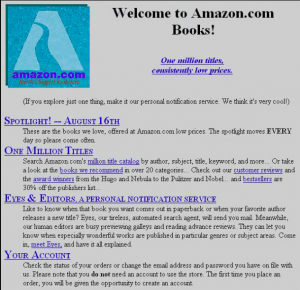 I'll stop saying it after this but, amazing! Right?
We can now customize every inch of our web presence to perfectly reflect our organization's brand, mission and personality. Our firm sees how crucial this is to businesses every day. A website can spread mass information in a second, sell products in one click, gather real-time feedback from your audience and so much more.
The problem is, if elements of your site aren't accessible to everyone, some people will miss out.
Accessibility in web design is more important than ever as we see websites becoming so interactive and key sources of information for businesses.  There is a lot of research and many standards regarding accessibility online, but it really isn't difficult to incorporate into your website. Bottom line, the Web Content Accessibility Guidelines (WCAG) aim to make all sites "perceivable, operable, understandable and robust."
It's an ongoing process to improve and refine, but after a little time and research, we are resolving any violations of WCAG that may hinder someone from enjoying our site and those of our clients.
Do you know where your website stands in terms of accessibility?
There are several online platforms that can review it for you. If you want to check for yourself first, here are some great places to start:
Navigate the whole page using a keyboard instead of a mouse.
Can you click through every link and form using the "tab" key?
Is there some kind of visual indicator to show where you are on the page?
Can you select all links and popups by clicking "enter"?
Do your text links provide a description of where they are going?
Try using a screen reader to understand whole website by hearing it instead of seeing it.
Do all pictures and non-text elements have ALT text that can be read out loud describing what the image is?
Do you have subtitles that can be read on all videos?
Is your site simple and clean enough to be understood by the artificial intelligence services someone may use to read it?
Check your content readability for people with visual impairments.
Do your colors and text have enough contrast on buttons and graphics?
Do all your pages have large, descriptive titles?
Is any text smaller than 14 px?
Is your site responsive so someone could manipulate the size without losing content?
Accessibility in web design simply means creating an experience with everyone in mind. And while it's far from perfect, we can already see the web is better because of it.