It was the quietest of times, it was the nosiest of times. It was a personal welcome, it was a cattle call. It was a subtle offer, it was a hard sell. This is the story of one Hawaii, but two very different resort experiences.
My husband and I were fortunate to travel this month to Hawaii, staying first in Oahu, then Maui. It was the wonderful adventure everyone told us it would be. We spent our days marveling at monster waves on the North Shore, participating in a special tour of Pearl Harbor arranged by a friend, winding along the road to Hana, and getting close up views of majestic whales, speeding striped dolphins and giant sea turtles.
We're not the type of people who just hang out at the beach all day. Rather, we prefer to combine some sun time with site seeing and a little adventure. Because this was a bucket list vacation, we chose resorts a step above those we might select on a typical excursion.
As a public relations professional, I couldn't help but find lessons for business leaders from the two properties, which could not have been more disparate.
The Welcome
We waited in a long line to check in at our first resort, even with "preferred member" status. After traveling all day, waiting is bad. At the second property, we were greeted immediately, offered a seat on a sofa with a breathtaking view and presented with lavender lemonade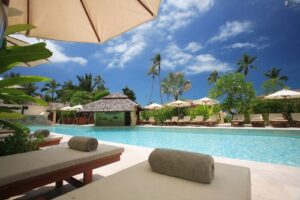 and a cool washcloth to refresh us.
Lesson: Reflect on what we do to make each visitor, guest or client feel special, comfortable and appreciated. What can we do to reduce wait time?
The Sell
When we met with the first resort's concierge for tips on where to go and what to see, she was helpful. However, there soon came a pretty strong pitch to participate in a sales session about property for sale in return for a deep discount on the hotel's luau. No, we said, we don't want to learn about a timeshare opportunity while on vacation. Later, when we stopped by the desk again, the representatives were poorly informed about activities on the isle but quick to twist our arms to fill the prospect chairs at the sales meeting. Soon we were avoiding that area of the hotel like the plague.
Conversely, in resort number two, we were told right away about other properties nearby that had happy hours or other activities and even provided a shuttle for short trips. The valets gave us tips on routes to take or things to avoid on our adventures. They provided materials about external offerings as well as their own and made sure we were aware of the varied activities included in the resort fee.
Lesson: Making people aware of additional products or services that are available is one thing. Making them feel like we are only there to sell them more is quite another. We should open the door for additional sales but never try to push or pull people through the door. It will build resentment.
Ambiance
The first hotel was a tower with a great ocean and mountain view. However, it was in a cluster of buildings that seemed to echo music and noise all around. It was fun at one point when they hosted a fireworks show, which lasted about 15 minutes. However, the final evening we were there, three venues around our building had competing music and, on top of that, a Chinese New Year celebration band played the drums in the same area for two hours straight. We were informed by the manager that it's hard to control everything that goes on because it's such a big property. We could not wait to leave.
Everything about property two was understated and calming. The music was soothing and not overly loud. It was especially quiet on our side of the resort, creating the perfect spot to watch for whales from our balcony and relax. We couldn't wait to get get back there, and even found ourselves spending more time  at the resort, just to soak it all in.
Lesson: Is someone paying attention to the "noise" in the company, protecting how it feels and operates? Competing forces and overlapping, unexpected issues may not create the right experience.
In service businesses especially, people will keep coming back if they feel they are welcome, are not being sold, and it is an experience that lives up to or exceeds their expectations. Not a bad lesson to be reminded of while exploring one of our most beautiful states.
Aloha.